Monica McDonald

Agent

in West Palm Beach, FL
Associate Information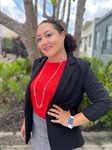 Languages Spoken
English, Spanish
Professional Designations
REALTOR
Expertise Types
Condominiums, Land, New Homes, REO, Residential, Residential Investment, Second Homes, Single Family Homes, Townhomes
Meet Monica...
Monica McDonald graduated from The Florida State University, receiving her Bachelor's degree in Merchandising and Textiles & Consumer Sciences with her Minor in Business. She's a proud Seminole. She has since run, managed, opened, consulted, and worked in the Retail, Restaurants, Real Estate, Fashion, Hospitality, and Senior Living industries. In addition to her Real Estate License, she is also licensed as an Administrator for Assisted Living Facilities (ALF). In each of those areas she attained different skills and experiences which have given her well rounded qualities with a variety of insight which make her a one of a kind and unique Agent.
Deciding to follow in her mother's footsteps, who has been a successful realtor for over 30 years and now her mentor, Monica loves the work life balance that real estate has to offer. She is a Florida native living in Jupiter for most of her life. She is married with two boys and has fun showing any new friends or visitors all the amazing places and things to do in the 561 area code! Her young boys motivate her and remind her to appreciate the little things, be kind, and to be grateful on a daily basis. Being involved in their community is something her family tries to instill in the boys. Her husband is also in Real Estate and they make a great team.
As a professional in any business Monica produces Top Sales, exceeding goals while providing the best experience in customer service. She builds and creates relationships and has repeat clientele. She also manages properties for absentee owners, guaranteeing them a peace of mind while they are away. Her attention to detail and white glove service comes naturally to her since she has a vast understanding of the service industry.
Monica loves to help people. She is personable and gives 100% full attention to her clients. Her knowledge, experience, and passion for people is second to none. She is a good judge of character, it will benefit you to have her as your Real Estate Advisor, she listens to your wants and needs, she understands where you are coming from and can play devil's advocate. She is motivated and passionate with a spicy flare. She is a problem solver, negotiator, and a warrior for her team, family, friends, clients, and co-workers. Her goal is to satisfy her clients needs whether it's their first time buying a home, an investment property, or finding a forever home to retire. When working with her clients she likes to imagine that she herself is in their shoes to get an in depth understanding of their true wants and needs. Fortunate to have leaders and mentors in the family business of real estate who have been top producing locally and internationally for over 35 years guiding her in the processes. She learns and grows daily.
Monica is friendly and feisty. She is insightful and honest, and can be intimidating when needed and she will work hard for you. Contact Monica if you have any questions, or looking for advice or counsel in any of the industries she has experience in. Her well rounded expertise in different areas of the best industries has molded her to be who she is in her life today. She is proud of her accomplishments and is constantly growing in the industry. Allow Monica McDonald to assist you in your Real Estate needs. Contact her Today!
Monica McDonald (561) 317-7763
MyrealtorMonica561@gmail.com